Speak to an Advisor: (800) 561-4028
The Stress-Free Service That Earns You
95% or More
of Your Life Insurance Policy's Market Value
Highest PaYout
Earn substantially more from selling your policy on the life settlements market than you can with any other option.
Lowest FEE
Colva's fee based service amounts to transaction costs that are often 5% or less of the total market value of the policy. This is far from the 15%-30% costs that a life settlement broker charges.
A life settlement could pay more than 10X your offered cancellation payout
A life settlement is a regulated financial transaction that allows you to sell your life insurance policy to a third-party institution. For many policyholders, it's a much better decision than simply cancelling the policy.
When you sell, you won't pay any of the premiums owed to your life insurance company. Instead, you'll receive a payout far greater than the cash surrender value offered by your insurance company.
Earn More with Colva
Matthew held his $1M life insurance policy for 20 years. As an 80-year-old widower who lives alone with mild dementia, he and his two sons decided that it would be best for him to move into an assisted living facility. In order to fund this, they decide to sell Mathew's policy on the life settlements market.
Barbara
William
$114,000

Premiums Paid

$89,000

Cancellation Payout

$209,250

Settlement Payout Using Broker

$268,750

Settlement Payout Using Colva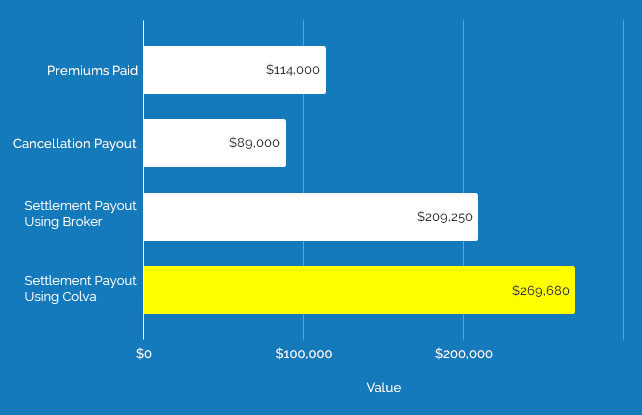 William is a 65-year-old grandfather who purchased a $250,000 life insurance policy when his children were young. Diagnosed with terminal brain cancer 2 years ago, his ability to take care of himself has greatly diminished and he now needs 24-hour care. William and his family decide to sell the policy on the life settlement market.
Matthew
Barbara
$24,000

Premiums Paid

$4,000

Cancellation Payout

$144,375

Settlement Payout Using Broker

$182,875

Settlement Payout Using Colva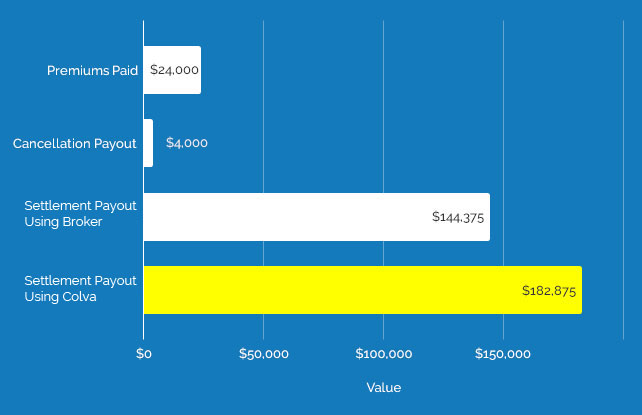 Barbara is an 72-year-old married grandmother who had a fall and broke her hip. After surgery and physical therapy she's moving well, but she decided to spend more time travelling the world and spending time with her family. Barbara chooses to sell her $500,000 policy and use some of the proceeds to take an extended Hawaiian vacation.
William
Matthew
$18,700

Premiums Paid

$500

Cancellation Payout

$65,857

Settlement Payout Using Broker

$83,419

Settlement Payout Using Colva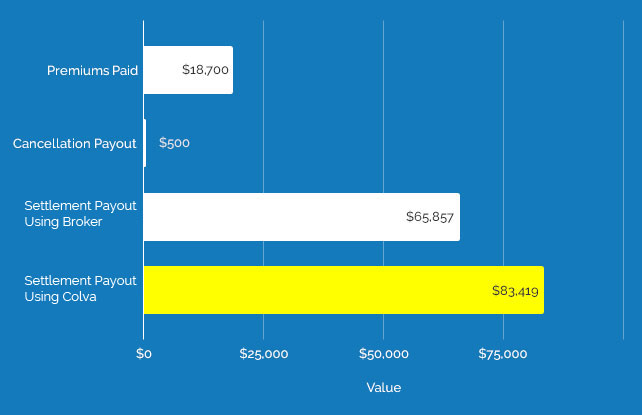 Don't Settle for a Bad Deal
To get the best price on the life settlements market yourself, you must be able to accurately assess your policy's value, find a buyer who's willing to give you an honest price, and negotiate the sale. That's why most people look for a professional to help with the process.

But with most brokers charging 15-30% for this service, it's easy to feel short-changed. We hate the thought of that as much as you do. At Colva, we use our actuarial expertise to work with your fiduciary advisor (attorney, CPA, CFP) to help you sell your policy for what it's worth, with our fee-based service amounting to less than 5% of the final sale price. We here at Colva do all the introductions to buyers and analysis of the policy and work with your fiduciary advisor who will help negotiate the price of the policy with Colva's detailed valuation and independent appraisal.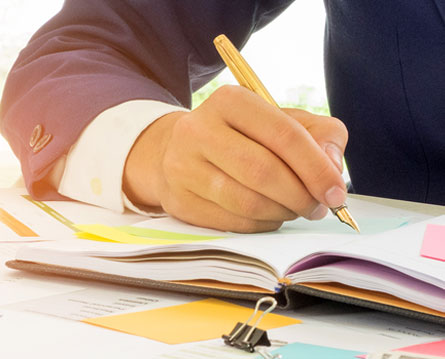 We Know How Important This Is
The idea of selling your life insurance policy can be daunting. The consequences of a sale are often monumental, whether paying off debts, funding hospice care and medical expenses, or simply freeing up your money. So it's vital that you work with a fiduciary who has your best interests at heart.

That starts with transparency. The person you're working with shouldn't hide fees or charge outrageous commissions. They shouldn't put their own benefit before yours. They shouldn't keep information from you. So we don't. Our commitment is in getting you the best outcome. That means that we'll listen to you, advise you, keep you informed, and work hard to get you the largest payout, as we would with our own family.
With You from Inquiry to Sale
01.

Stage One

Free Consultation

We begin with a hassle-free conversation so that we can get to know your situation and properly advise you.

02.

Stage Two

Holistic Policy Review

We'll show you how you can save tens of thousands in premiums on your policy, giving the option not to sell.

03.

If you choose to sell your policy on the life settlement market, we'll analyze it in detail to get the market value.

04.

We'll help use our extensive relationships in the life settlement space to introduce you to the most trusted life settlement buyers.

05.

While your fiduciary financial advisor will negotiate the actual price of the policy, we will help your fiduciary financial advisor understand what the real value of the policy is to you.

06.

We'll assist both parties with the transaction so that everything is sorted quickly, fairly, and securely.
Call Us Now to Speak to an Advisor Hassle Free
(800) 561-4028
Or click the button below and fill out the short form for an instant estimate on your policy.